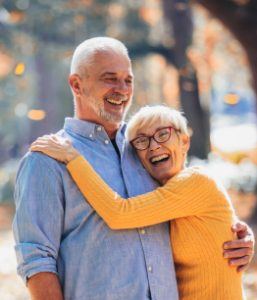 Missing teeth? Ask us about Hybridge dental implants! Dr. Dara Darabi offers Hybridge implants to help restore your confident smile and your oral health. Hybridge dental implants are an excellent option for anyone who needs full-mouth reconstruction or has lost multiple teeth. When you visit Apex Dental Associates, our dentist will thoroughly examine your mouth to determine if Hybridge dental implants is the right option for you. Give us a call today to schedule your consultation and find out if you are a candidate for Hybridge dental implants!
Transforming Your Smile Can Change Your Whole Life!
Click Here to see Hybridge Patient Transformations
What is Hybridge?
There are many different options available for replacing your missing teeth. Many people automatically assume that dentures are the best option, however, dentures are removable and often move around in the mouth, preventing you from eating and speaking normally. Hybridge dental implants offer a stable, long-term solution for your missing teeth and smile. A Hybridge implant will replace a full arch teeth, completely restoring your smile and oral function.
Like building a house, you have to have a solid foundation for your smile. This foundation is achieved using a handful of strategically placed implants. Our dentist typically places six implants in your upper dental arch, and five implants in your lower arch. These implants replace your missing tooth roots and serve as a stable foundation on which crowns, bridges or dentures can be permanently anchored. Your final result will be a beautiful, confident smile that looks, feels and functions exactly like your natural teeth.
Is Hybridge right for me?
Hybridge is not only a permanent solution, but also an affordable option and a treatment that promotes your long-term oral health. The implants used in your treatment perform the same functions as your original tooth roots, working to stimulate your supporting bone and keep it healthy and strong as well as providing a stable foundation for your new smile. Once your Hybridge implants are in place, you will also be free from the need for root canals, dental crowns, dental bridges and other restorative treatments. With a Hybridge dental implant, no additional work will be needed later. If you have lost multiple teeth, we strongly recommend that you consider a Hybridge dental implant.
What is the process for receiving Hybridge implants?
Dr. Darabi will begin by meeting one-on-one with you for an initial consultation. This consultation will include a full dental exam and a 3D panoramic scan to determine if you qualify for dental implants. We will review all preliminary options for treatment as well as discuss your insurance benefits, treatment costs and financing options. If Hybridge is the right option for you, our dentist and team will make use of advanced dental technology to ensure precision and excellent craftsmanship at each stage of your treatment so that we can give you a beautiful, confident and fully functional final result.
We are proud to offer full-mouth reconstruction with Hybridge dental implants in Florence, Springfield, Ludlow and Turners Falls, Massachusetts, and invite you to contact our office for more information. We look forward to meeting you soon!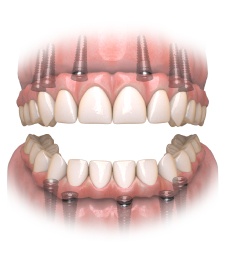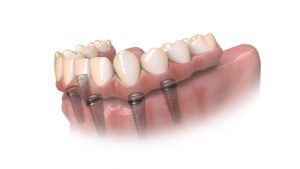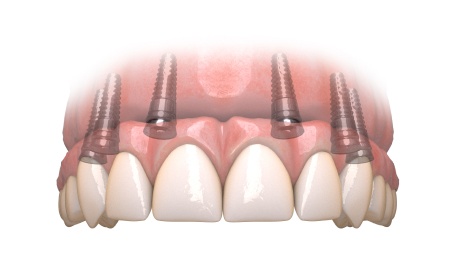 FAQ
Am I a good candidate for Hybridge dental implants?
If you have missing or unhealthy teeth, you are most likely an excellent
candidate for Hybridge. You will be able to receive implants as long as your mouth is healthy, but if you have a pre-existing condition our dentist will need to provide treatment for that condition before you can receive implants. During your initial consultation Dr. Darabi will check your mouth for the following before you can receive a Hybridge.:
Sufficient bone tissue to support your dental implants
Malocclusion (bad bites)
Infection, cysts and bone defects
Tooth decay or gum disease
Remaining teeth that need to be extracted
We may recommend additional treatments, such as bone grafting or tooth extraction, before you can receive a Hybridge implant.
How much do Hybridge dental implants cost?
The cost of your treatment will depend on the extent of the procedure or procedures you need. For example, any additional preliminary treatments to correct existing dental problems will raise the overall cost of your treatment. On average, restoring each jaw with fixed Hybridge dental implants can range from $16,000 to $27,000. We will discuss your treatment cost with you during your initial consultation.
How do I pay for my Hybridge dental implants?
Before you begin you Hybridge treatment our team will work with you to create a payment plan that works with your budget. We offer a discount if pay your treatment costs in full at the start of your treatment plan. Please feel free to contact our office for more details about our financial options.
Does my insurance cover my Hybridge dental implants?
Our team will check your insurance benefits to determine if your insurance will cover part of the cost of your Hybridge treatment, and if so how much they will cover and how much you will be responsible to pay
How long does Hybridge Full Arch treatment take?
Hybridge implant treatment can be completed in as little as two weeks post-surgery, though the duration of your treatment may vary based on:
Remaining teeth at the start of treatment
Bone grafting or other procedures you need to receive
Dental infection at the start of treatment
Whether you a receiving an upper or lower Hybridge
---
Check out the Hybridge Dental Implant Smile Gallery.
Browse the Hybridge Smile Gallery to see the great results patients achieve with Hybridge Dental Implants.